THE GREEN SHEET PROCESS
Turns Every Customer Call Into A Sales Call
Price: Only $497
Do you write $300,000+ in Life Insurance and Financial Sales every year? Do you write about 2,000 cars or 1,100 Extended Business (EB) lines a year?
Bill Eggar does. And he can help you do it, too. You may have heard of Bill and his legendary Green Sheet Process™. It's the "secret sauce" to his incredible success.
Now it's your turn.
Here's the story: In 2005, Bill started paying attention to what his Support Staff said to customers. He wrote down how long a typical service call took … exactly what his staff said when customers visited … he even tiptoed down the hall to eavesdrop on their phone calls without them knowing it!
All that spy work paid off. Bill began to see patterns. He started tweaking his customer service process workflows. And he created an easy-to-use "cheat sheet" for staff to uncover more sales opportunities—without selling. He dubbed it, the "Green Sheet Process" because it's all boiled down to fit on a single sheet of green paper. Why green? So I can see, at a glance, if my staff is working the system.
The secret? The Green Sheet itself has nothing to do with writing more business. It's all about the simple 3-step system behind the Green Sheet. With this system working for you, you're practically unstoppable.
---
Here's What You Get
The Green Sheet Process™ —4 video DVDs and 5 audio CDs of Bill and his team showing you exactly how to use the simple Green Sheet system. With an Action Guide and Workbook, with the videos and audios all transcribed, for easy reference.
You also get a Data Disk of all materials, sales scripts, and everything you need to make this work in your agency. Point, click, print, done!
Plus, you get access to Bill's Yellow Sheet process—the same one that turns CPRs into financial product sales more than 95% of the time. That bonus video training, with a Yellow Sheet template and full instructions, is included.
Finally, you get your own Green Sheet Success Coach. That's right. You get live, personal help from a Green Sheet Success Coach—by email or phone. This extra support virtually guarantees you'll profit as FAST as possible from the Green Sheet Process!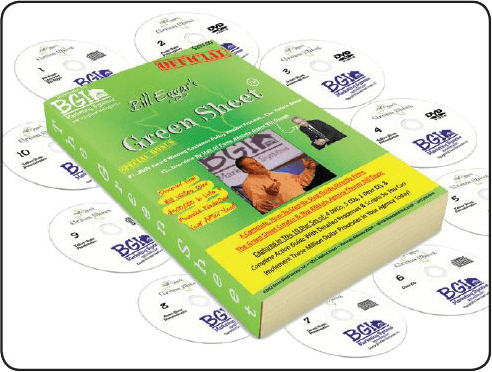 You may have heard of Bill Eggar and his legendary Green Sheet Process™. It's the "secret sauce" to his incredible success.
Here's what others are saying about The Green Sheet Process ...
"I'm an EFS in Newark, Delaware. Your system is a masterpiece of process and psychology. I'm glad to have finally heard how the Green Sheets are supposed to be used. Three of my EA Partners bought the Green Sheet program and will implement it. Thank you for your generosity in sharing your wisdom and knowledge."
Charles H. Beck, CLU, ChFC
Allstate Agency Owner
"After getting the Green Sheet, I wrote 11 life applications in just under 60 days—more than I had written in the previous 9 months. Now I have a process that will meet Allstate's Life
requirements in 2 months. Thank You! Thank You! Thank You!"
Jason Juliano
Allstate Agency Owner
"We wrote 12 life applications in the first 6 weeks of using the Green Sheet process. Amazing ROI. It works just like Bill Eggar said it would if you follow the steps!"
Sean O'Donohoe
Allstate Agency Owner
"Bill Gough has always taught me it's all about ROI and I am a big believer in the results. In the first 105 days of using the Green Sheet process we wrote 17 P&C items and 11 life insurance applications and we're just getting started."
Wendy Murphy
Allstate Agency Owner