THE BGI REFERRAL SYSTEM
Discover How To Skyrocket Referrals In Your Agency
Price: Only $297
Think about the number of households you have insured right now. Got that number? Now, what if you got just one referral from each of your households and closed a quote with them? What would your business (and your paychecks) look like?
Referrals—that's what this is about. The BGI Referral System, has produced over 1,700 referred leads at a 59.8% closing ratio, over 1,200 items—and $1,200,000 in new business with 93% retention!
---
Watch the DVD and listen to the audio CD to discover:
How charity can generate more referrals than money or gift cards
Why brainstorming works (and asking for referrals doesn't)
How to "recruit" your local pizza restaurant to deliver referrals to YOU
Two words your customers say in almost every conversation with you, that can trigger more referrals than you ever thought possible
How to create your own referral "sales force" of business owners with a "Monday morning bulletin" (cost: $0)
Then, because this is a system, you get the 5-step, multimedia campaign that lets you launch and profit from your own Referral Program: Voice Broadcast Script, Sales Letter, Email, Facebook, and SMS Text—it's all here.
---
Plus, it's a snap to repurpose and reuse this campaign on LinkedIn, Twitter, postcards, and flyers, for even more referrals.
You get it all, on video DVD, audio CD, Action Guide (including all the scripts, so your staff can start generating referrals within 60 minutes of getting this), and data CD — so you can easily "swipe and deploy" every part of the system in your agency! It's all DONE for you. Just plug and play!
Stop missing out. Referrals are the lifeblood of your agency. If your clients are not referring at least one new person to you every year, you absolutely need this system.
Get yours today!
Special Offer: Start getting referrals 24/7! Upgrade and get your own customdesigned referral web page, for only $200 more. It's 100% risk-free!
If you do not have a "real" referral reward program process—built on a proven system to eliminate inconsistency—your agency is losing money, right now as you read this.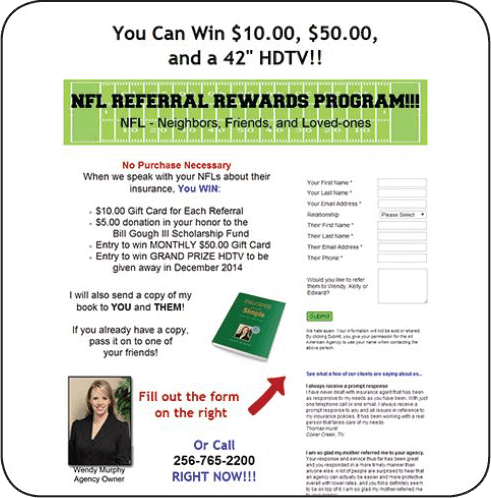 Your own custom referral web page is available for only $200!
Here's what others are saying about the BGI Referral System ...
"Thanks to BGI I was able to increase my written premium from $1,887,661 to $3,020,552 an increase of 160%! Over $600,000 in New Business written from referrals ALONE!"
DJ Noland, President,
McGhee Insurance Agency NLR, Inc
North Little Rock, AR
"Bill, your info on referrals has been crushing it for us for over 2 years now. Thank you very much for all that you do."
Mark Scott, Agency Owner,
WV
"Once we returned from your conference, the first thing we did was implement your referral reward program. Our referrals have never been so good. Your information is real world stuff
Bill. Thank You."
Steve Moore, Agency Owner,
Raleigh, NC