BGI DONE-FOR-YOU NEWSLETTER
More Referrals, More New Business,
More Retention ... On Autopilot
Bill Gough started mailing a printed monthly newsletter to his customers and centers of influence in April 2006. It's now the core of every marketing effort at the Murphy-Gough Insurance Agency. Dollar for dollar, nothing drives more referrals; get you more new business, and boosts retention better than a newsletter. Bill says: "Take away everything but my monthly newsletter and I'll still own a booming, profitable agency!"
So ... why don't most agency owners mail out a newsletter every month? Time. Or money. Or both.
But now those problems are solved, with the BGI Done-For-You Newsletter Program. It's never been easier or more economical to profit from a monthly newsletter than right now.
We do ALL the work! We write the articles, design and format your newsletter, print and mail it. With prices as low as 89 cents per issue—including postage!
---
You reap ALL the benefits:
Higher Customer Retention
More Referrals
More Life and Financial Business
More P&C Business
More Cross-Sales
Become an instant publisher and authority
---
Others say it best ...
"The newsletter looks great! Our total business retention is up 3 points since January and first-year new business retention is up 11 points. We are sure it is from the monthly newsletter and other BGI processes!"
- Paul Phaneuf, Tampa, FL
Newsletter member since April 2012
"I have used the BGI Done-For-You Newsletter for years and have seen a noticeable increase in my retention. I am constantly having customers contact me to let me know how much they love getting the monthly newsletter. It is an awesome tool for retention!"
- Adrianne Eaves, Montgomery, AL
Newsletter member since April 2010
Take advantage of our special pricing and get started today! Call Melissa at 256-246-2619 or email her at [email protected].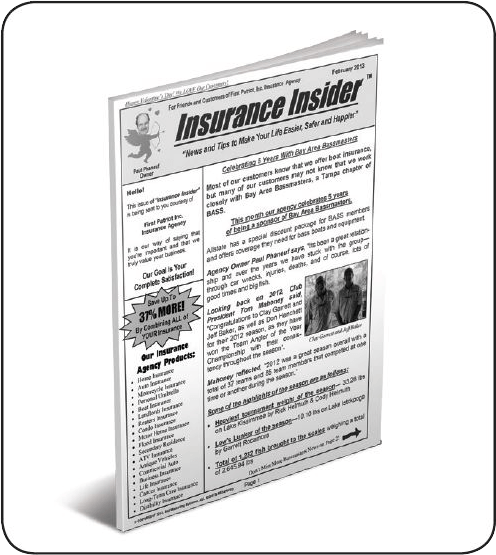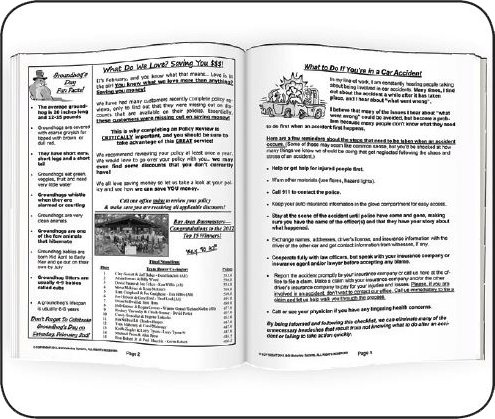 Bill says: "Take away everything but my monthly newsletter and I'll still own a booming, profitable agency!"
Here's what others are saying about the BGI Done-For-You Newsletter ...
"We have started the renters program that I read in your November News Letter and now we have two that are constant referrers. I plan to write 500 renters a year. It is a simple process, but it is all about just doing it. The people who are the most successful are the people that take action."
April Ruxton, Agency Owner, Plantation, FL
"Our customers love receiving the newsletter and value the information we provide. It keeps them informed of various products we offer, as well as important info regarding their insurance and our office. Maggie Crandall goes above and beyond in assisting our EVERY need each month, and follows through to make certain all is to our satisfaction."
Beth Hanlon, Agency Owner, Riverhead, NY
Newsletter member since April 2012