BECOME AN INSTANT AUTHOR
In 77 Days Or Less, You Can Gain Authority, Prestige, "Celebrity Status" And More Referrals — Without Writing A Single Word!
Back in 2005, Bill Gough's insurance agency was having explosive growth, but his referral rate sucked! Only 4% of new business came through referrals. He needed to make a change and create a referral culture in his business.
Bill paid Dan Kennedy and other marketing experts for help. Their advice? If he wanted to be seen as the "obvious expert" in his market and enjoy substantial growth in his agency ... he had to write a book. Because being an author makes you an authority in the eyes of the public.
So he locked himself in his office and began to write. Finally, 7 months later, the book was done! Within a year, his referral rate shot up to 18%. Today it's nearly 50%. And the one thing that did all the heavy lifting was THE BOOK.
Writing a book was one of the best business decisions Bill Gough ever made. And now his book can become your book—with your name and picture on the cover, ready to grow your business and make you a local celebrity.
Being an author delivers new business opportunities (as an authority, business leaders approach you) ... attracts better clients (affluent people prefer to do business with industry leaders—like you!) ... lets you charge higher fees (just like Dr. Phil or Dr. Oz—people pay more to work with a celebrity, even a local one) and much more.
Allow this book to explain insurance policies in a way that anyone can fully understand. It covers and explains auto, home, boat, life, renters, umbrella insurance, and more!
---
Here's what you get as an Instant Author:
Your version of the book, Informed and Insured, personalized, printed and delivered. With YOUR name as author and YOUR picture on the cover—100, 250, or 500 copies (up to $5,000 value).
Professionally written press releases to send to local newspapers, TV, and radio stations ($795 value).
Exclusive training to help you market your book ($300 value).
Email blast to send to customers announcing your book—let the referrals begin! ($250 value).
3 celebrity testimonials for your book, including one from the world-famous Brian Tracy (priceless!)
---
The only catch? If another agent in your market takes action before you do, you lose first-mover advantage. Don't miss out. The timing will never be better. Grab this opportunity today! Call now to find out how you can become an Instant Author and insurance authority.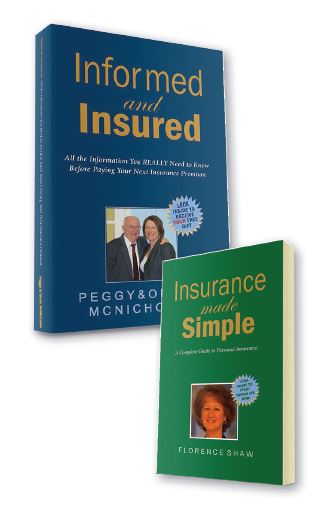 My book can become your book — with your name and picture on the cover, ready to grow your business and make you a local celebrity.
Here's what others are saying about the Become an Instant Author Program ...
"One of my team was in Qdoba Mexican restaurant today and one of the employees noticed his American Family shirt. The guy asked him what agent he worked for, and Nicolas said Cynthia Squires. The guy said, "Wow, the author?" Nic then asked if he had his policies with American Family and he said no, he is a State Farm Agent, but has to work part time to supplement his agency!"
Cynthia Squires, Agency Owner, Federal Way, WA
"The book you guys did for us is a smash. Our customers and referral sources love it, and have been handing them out to their friends making our phone ring wanting to talk with the
"author". Great concept Bill, you never stop with the best marketing ideas."
Thomas Walters, Agency Owner, Raleigh, NC