GOLD COACHING PROGRAM
Put More Money In Your Pocket And Build A Stronger Agency With Our Entry-Level Coaching
What makes the Gold Coaching Program so good?
It gives you just the right combination of new ideas, coaching, and support to build your agency at warp speed. Ready-to-use ideas and proven systems you can IMPLEMENT.
Remember: Unlike anyone else who may be giving you advice, Bill Gough has built and run agencies in the top 3%.
---
Here's What You Get Every Month:
The BGI Marketing Newsletter. Members say it gives them 30 days' worth of money-making ideas in just 30 minutes a month. It's 16 pages, packed with agency marketing news, trends, and the hottest, most-profitable strategies to grow your business.
The Gold Coaching Webinar—Live, on Audio CD, and video DVD. On each webinar, Bill Gough and his Sales Superstar, Wendy Murphy, train you on the latest sales secrets you can use NOW. Your team will love Wendy, who was a 14-year staff member and sold up to 95 new business policies a month. Plus, put yourself on the fast track by getting your toughest sales questions answered live!
Email Access to Bill Gough. Got a pressing question that just can't wait? Help is just a click away—you get private access to Bill by email. You're never alone, wondering what to do. Not anymore.
---
The Gold Coaching Program is a great place to start your BGI journey. Perhaps your agency is doing okay, but you know it could do better. Or you might be worried about where your next customers will come from. How do you market yourself, your agency, your services? Get the answers here every month!
True success in this business comes from doing things differently. That's how Bill Gough has created financial freedom for himself and his members—and that's what you get in the Gold Group.
Try it Risk-FREE for 60 days.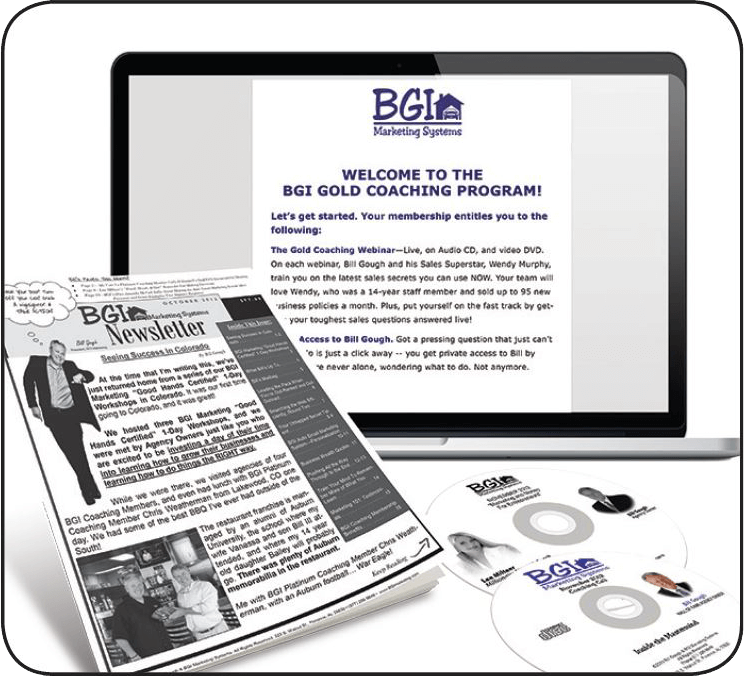 True success in this business comes from doing things differently.
Here's what others are saying about Gold...
"I get as much out of it as my staff does. We close the office down and listen to it all in the same room and take notes. After the call, we discuss what we learned and how we are going to implement it. This has been one of the best investments I've ever made in my agency. If you aren't subscribing ... you are missing the boat!"
Sean O'Donohoe, Agency Owner, Galveston, TX
"The best part of my month is when I attend the training sessions with Bill and Wendy. The knowledge I gain from each of these calls is priceless. It has actually made my income go up since starting it."
Mary Lou Vasquez, Office Manager, Laredo, TX
"The calls are GREAT, GREAT, GREAT. I ALWAYS get the most out of the CDs you send, this gives me the opportunity to put them in my car and listen to them a few times."
Tom Hoffman, Agency Owner, West Milwaukee, WI
"I look forward to the CDs of the Coaching Calls. I should mention I really enjoy the CDs. My new satellite office is about an hour from my main office location so I have a lot of time for "Automobile University" as you call it. The Lee Milteer calls have been particularly helpful especially in dealing with the added stress that comes from expanding the operation."

Ron Bansky Agency Owner Princeton, NJ