BGI ARCHIVES COLLECTION
The Best Of BGI In One Package, For Maximum Results!
With topics ranging from insurance marketing to the mindset secrets of wealthy Agency Owners, the BGI Archives are packed with money-making ideas. You get it all—on video, audio, and print. Listen in the car, read in your favorite chair, or kick back with your staff and watch on a screen. You'll learn from the BEST experts and TOP performers. Real-world Agency Owners who are living their dreams, in every city and niche you can imagine. Whatever your specialty, you'll discover gems here to transform your business—and your life.
---
In the BGI Archives Collection, you get access to...
Platinum Coaching Power Calls: Every month, Bill interviews a top Agency Owner or marketing expert, to unlock their secrets. These audio recordings are packed with money-making advice and strategies from experts who have done it. You get private access to over FOUR years of insights to listen to while you're driving, jogging, or doing other things. It's like giving yourself a bachelor's degree in Insurance Moneymaking!
Gold Coaching Webinar: On each webinar, Bill Gough and his Sales Superstar, Wendy Murphy, train you on the latest sales secrets you can use NOW. Your team will love Wendy, who was a 14-year staff member and sold up to 95 new business policies a month. Put yourself on a fast track to record-breaking sales with these powerful videos!
[BONUS] The BGI Systems Newsletters: The BIG ONE. You get electronic versions of every past issue. Each is 16 full pages of agency marketing news, along with the most-profitable strategies to grow your business. Zig Ziglar said, "Rich people have small TVs and big libraries." Well, here's your library!
---
The best part? You'll have instant access. No waiting—download and start profiting immediately!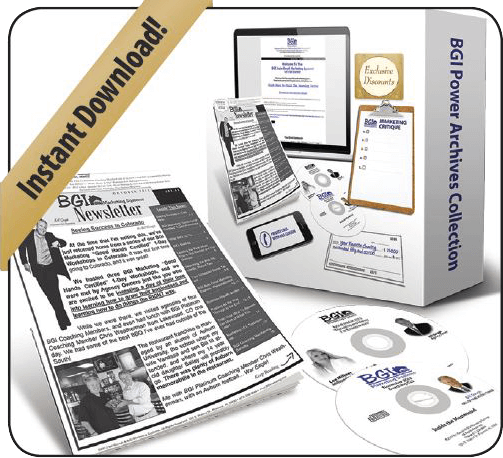 Give yourself a "full ride" to BGI University! You get instant access— no waiting. Download and start watching, listening, and profiting immediately!
---
Pricing for BGI Archives:
2011: $697
No Gold Webinars for this year
2012: $847
Only 9 Gold Webinars for this year
2013: $997
2014: $997
Buy 2013 or 2014,
get 1 year FREE (your choice).
Buy 2013 and 2014,
get 2011 and 2012 FREE.