Bill Gough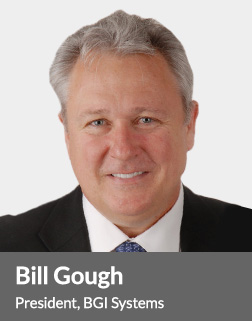 Bill started his Hall of Fame career in 1984 working in a booth at the Sears Department store in Florence, AL. Fortunately for him, he had an outstanding manager (who he now realizes was his first mentor and coach) who got him off to a great start. She was instrumental in guiding him to win Rookie of the Year and many awards in his first two years working for Allstate.
Then one day, Bill looked up and saw that his mentor had started her climb up the corporate ladder. He now had just a manager, who was a nice guy but not much help. During this time period he got divorced and started living the "single life". Somehow he managed to keep his job during that time.
In the mid 90's Bill started working harder and focusing more on his business. This was due in full to him meeting Vanessa, his wife. Then something happened in 2000... Allstate changed things. He was no longer an employee. He was now an independent contractor – a true business owner – and had to change his mindset and how he ran his business.
Bill was winning awards and going on reward trips due to the success he was having in his agencies. When he attended Leader's Forums & Chairman's Conferences, Bill started hanging out with the Top 5% of Allstate Agents. The only thing he was focusing on every day was how to become a better agent and grow his business.
Bill realized he needed more balance in his life and he started getting coaching from people in the small business world. After all, that's what he was… a small business owner who owned an insurance agency. This was a breakthrough moment for Bill, and many successes followed for many years.
On January 1, 2007, tragedy struck Bill's life in an unimaginable way. He lost his son, Bill Gough III, in a drowning accident while on a family vacation. In the aftermath of this event, Bill decided to create a legacy for his son so his name would live on forever, founding the William M. Gough III Charitable Fund in his memory.
Bill had always enjoyed helping other Agency Owners, and he wanted to do something to give back. This is why he founded BGI Marketing Systems in 2008… to help other agency owners achieve and exceed the same success that he experienced over his 28 year career.
BGI Systems has helped over 2000 Insurance Agency Owners and other Small Business Owners across North America by teaching real-world proven systems and processes through our Done-For-You Services and Coaching Programs.