Direct Response Marketing is one of the oldest forms of marketing but also one of the most diverse forms of marketing.
The most common form of direct response marketing is direct mail. As a business owner, you have more than likely used direct mail in the past to grow your business.
There are many benefits in using direct response marketing such as the ability to:
Target Specific Markets - Through paid advertising you are getting in front of many eyes… but it might not be the eyes you want. Through direct response marketing you have the ability to target specific niche markets such as high value homes with multiple autos (and possible boats and RVs) to receive a higher ROI.
Receive BETTER Clients - The clients you receive through direct response marketing are not shoppers. These are people that have a moment of truth. They've either had a bad claim with current carrier, or their agent has made them mad, didn't return their call, etc. You are showing them that you are better for some reason than who they've got now.
They BUY More - our ideal client that you targeted is more likely to buy more due to the niche. When you target higher value homes in nice neighborhoods the more likely your new client will need multiple policies including Life and Umbrella.
I recently received a direct response marketing piece in the form of a promotional product that really caught my attention. While walking out to my mailbox I found a flying disc in my yard.
See picture below.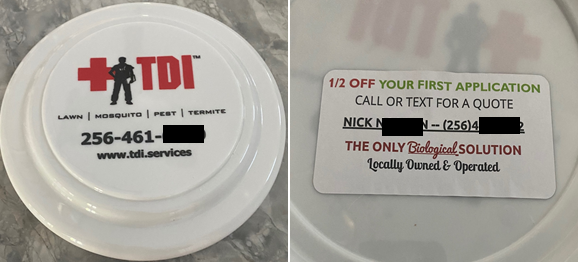 This was so smart! It caught my attention, it was targeted, and it got me talking. I have told many people about this simply because it was different. This is not the generic pen, postcard, or letter; this was an actual eye grabber.
How can you use this for your insurance agency? Easily!
Using promotional products such as a flying disc not only gets your name and information in a person's hands but it also sticks with them!
Your disc should include your agency information and a call to action such as – "Call the agency today to have a conversation about your insurance and receive a $10.00 gift card!"
This will get your phones ringing with targeted, better leads.