One of the many suggestions I share often to improve performance is "whiteboard meetings". We get many responses from agents about what a whiteboard meeting is and a few on how to use a whiteboard in your agency.
Like any other question that smart and curious people ask, it's a great question if you do not know the answer. So today, I'm going to answer it and also show you agency owner and mastermind member, Wendy Murphy's, whiteboard.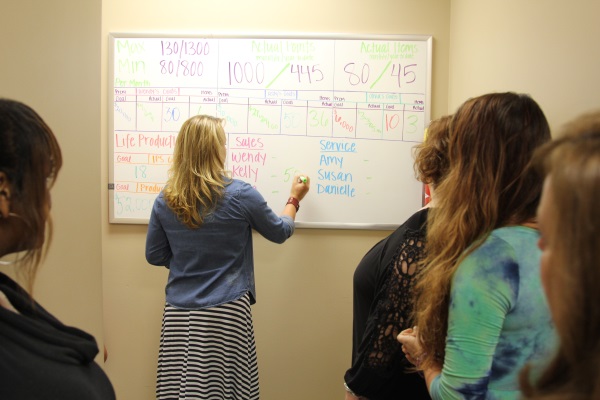 We've used a WB in our agency (you know Wendy Murphy bought my agency in 2012) for many years. It serves as a visual scorecard on how the agency is doing daily, weekly, monthly, and more. You've likely seen these at other businesses. Many agency owners are already using them with stellar results. Remember, what gets measured gets done. What you FOCUS on, multiplies.
Friendly competition in your office is good for you and everyone. Good for team members. Good for your clients. Team members are focused on doing a great job to get more great clients.
Whiteboard meetings are designed to last ONLY 2-3 minutes for a staff of 4 plus an agency owner. Everyday at 8:05am, Wendy and her team meet at the WB to look at this week's new sales. Each team member has about 20-30 seconds to say what he or she is doing today to drive a sale. Wendy will then say a few upbeat words of wisdom to help ready the team for the day.
Then they break up into twos and each person practices something to help grow the agency. For example, sales stars practice a close, overcoming an objection, opening or closing a sales talk with referral culture language, or something in the presentation. Customer service heroes can practice asking for cross-sells, life specialist introductions, annual review scripts, claims, scripts, etc.
Our business can NEVER be perfected. You can make progress, and the most successful business owners understand that progress needs to occur daily to stay ahead of the fast paced world that we live in today.
P.S. Don't miss the special offer expiring Thursday, August 4th for your chance to receive 2 BGI Boot Camps for almost half price PLUS 3 fantastic bonuses. Click HERE for more details.